This will be our 15th year of homeschooling. I still feel like I'm learning more than the kids do because there are so many great resources out there.
I've compiled a list of the best-of-the-best in homeschool curriculum (in my opinion). Children all have different learning styles and what works for one family may not work for another, but in my experience, these ones are wonderful.
Preschool
I think this year, Dancing Queen may be ready to move past most Preschool concepts and do a modified Kindergarten/grade 1 program. She is 9 but developmentally much younger. We will of course still be doing a lot of sensory work and busy bags with her.
What we have loved in the past:
Math
One of the most common questions I get from new homeschoolers is how to choose a math curriculum. I've actually compiled a list of reviews (pros and cons, if you will) of the main homeschool math curriculum. You can read the big math debate here. Ultimately, we chose to go with Teaching Textbooks last year and we are going to stick with that this year. We also do a lot of our math learning through hands-on teaching (think baking or pizza for fractions) and through countless hours playing board games. These are the board games we use for math concepts.
Others I recommend:
Language Arts
What we are using this year:
We have been using Daily Grams for grammar for 9 years now. I love it. It's not too repetitive and it's very practical. We ignore the grade level the books are designed for and just start them on the first one (grade 3) when they are ready for it and go from there. The books are designed for kids to do just one page a day and they are simple, important grammar concepts.
We use a variety of other resources for Language Arts. I love the book Write a Super Sentence. You can read here about how I use it with my kids to teach strong sentence writing.
We will also be doing a ton of reading. I have a great list of books we're planning to use this year. We will be doing writing in many of our unit studies and using notebooking pages for that.
Science
Last year, we started a new program for Science and loved it! Earth and Space, a Christian Kids Explore program was full of hands-on activities and engaging information. It worked really well for teaching different age and ability levels at the same time. 
We have one or two units in that book left (our road trip set me back and we didn't finish a few subjects last year) and then will be moving on to the CKE Chemistry program.
Astronomy
Snuggle Puppy is so excited about this online astronomy course he is going to be taking.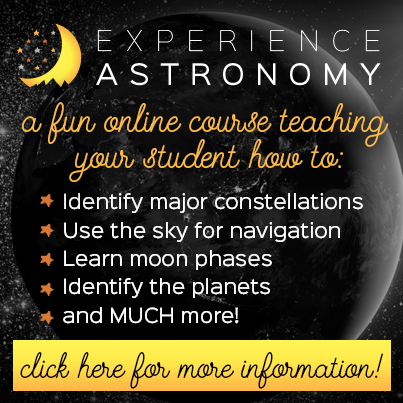 History
We have always used Story of the World. Last year, we almost finished Volume 3 so we will be completing that this year and moving on to Volume 4. I think when we finish that one, I will grieve! Story of the World is not only my favourite history curriculum…it's my favourite curriculum period.
I find it especially easy to use to teach kids of multiple ages at many levels.
Social Studies
We will likely be continuing with our study of Canada this year which I created using a variety of resources.
Bible
We will be doing a daily devotion and memory verses as well as continuing the Apologia program we started towards the end of last year: I am completely in love with this program from Apologia! You can read our in-depth review of this program here.
Art
Art for All Ages through Chalk Pastels are simple tutorials and produce beautiful artwork that give my kids more confidence and teach them a lot of the basics required for art. We will be doing a lot more projects from these books this year. We absolutely loved the winter art tutorials we did from this series!
We will also be doing:
-homeschool art classes
-artist studies including videos
-sketching
-lots of crafts and art projects
Music
Four of the kids will be continuing with piano lessons. If you are unable to access piano lessons for your kids either because of scheduling conflicts or finances, check out Free Piano Lessons for Kids.
A wonderful program for music appreciation is SQUILT.
Handwriting and Copywork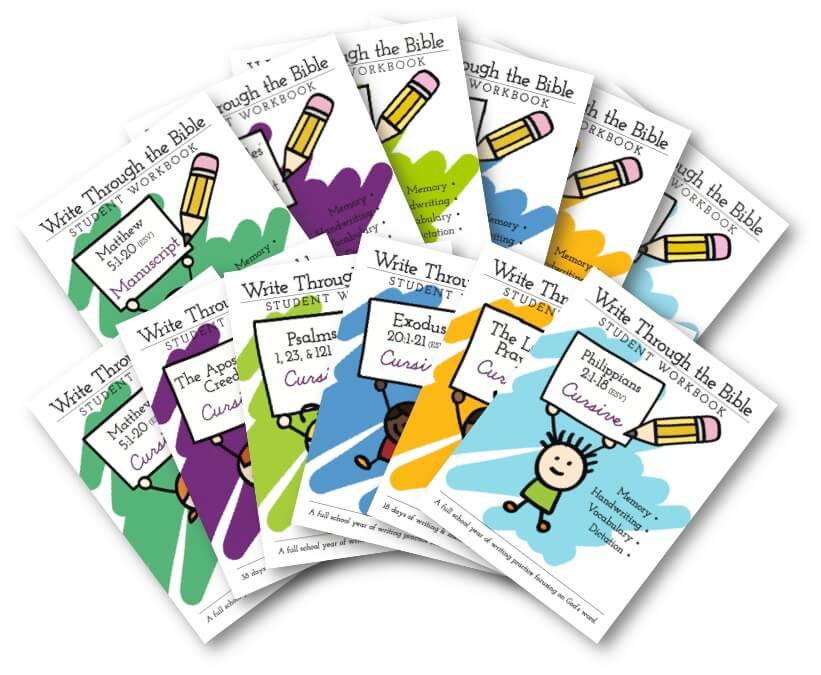 Unit Studies and Field Trips
Field Trips:
Jasper, Alberta
Vancouver Island, British Columbia
Aviation Museum
Botanical Gardens
Undersea Caverns
Art Gallery
Rutherford House for high tea
African Drumming class
Energy Discovery Center
Science Museum
Ukrainian Cultural Heritage Village
Jurassic Forest
Raceway
Of course, if you are living in Canada or going to be visiting Canada and are looking for Field Trip suggestions, there are hundreds in my Ultimate Guide to Field Trips in Canada.
Aviation
Canada
Money
Time
Solar System
Inventors
Whatever the kids are interested in
For our unit studies, we create our own using ideas I find on Pinterest, books from the library, field trips, and notebooking pages. We love notebooking pages! Read about some of the ways we use them.

Odds and Sods
Three of the kids are finished all of their swimming levels so they may be taking their Bronze Cross and Bronze Medallion. Some of them plan to become swim instructors or lifeguards. The two youngest will be continuing with regular swimming lessons.
Miss Optimism is obsessed with fashion design! She will be taking sewing lessons this year and will also be taking the online course Fashion Design 1.
We had started working our way through this course ("The Talk") before we took a break for the summer and it's actually really good. The videos about ovulation and the development of a baby are great and the book makes it easy to talk to your kids about this subject. We got through 4 of the 7 lessons so will be finishing in September.
Resources for the Home
Follow me on Pinterest for tons of great homeschool and family ideas!