This recipe turned out so well that it is worth the little bit of extra effort. I created it using my homemade satay sauce recipe.
Sauce:
2 tsp. vegetable oil
2 cloves of garlic, minced
2 – 3 tsp. Thai seasoning (I used VE)
1/2 cup chicken broth
Combine in small pot and bring to a boil for one minute. Turn off heat and stir in…
1/2 cup smooth peanut butter
2 tsp. brown sugar
1 Tbsp. soy sauce (use gluten free)
2 tsp. lemon juice
crushed chili flakes ( I like things spicy so I use quite a bit)
Cook one package of rice noodles according to package directions. Drain. Toss with sauce.
Top with fresh cut green onions and additional chili flakes if desired.
Printable recipe for Thai Satay Noodles.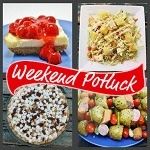 (this post may contain affiliate links)