With words like "vestibular", "proprioception", and "interoception", sensory processing can be difficult to understand even for adults. It can be difficult to introduce the concepts to kids. Books are a great way to begin the conversation. These must have sensory processing books for kids include titles not only for kids with sensory challenges, but for their siblings and classmates as well.
By involving the siblings and classmates of kids with Sensory Processing Disorder in the learning, they will they be better able to understand and support the child with SPD. Feeling understood goes a long way.
Kids need to develop an understanding of sensory processing. They also need to learn to recognize their own sensory signals. For a child with Sensory Processing Disorder, this is even more important. Books are a wonderful tool for parents and teachers to use.
Must Have Sensory Processing Books for Kids:
My Sensory Self Workbook for Kids: Helps Kids Learn the 8 Sensory Systems and Discover Their Unique Sensory PreferencesBuy Now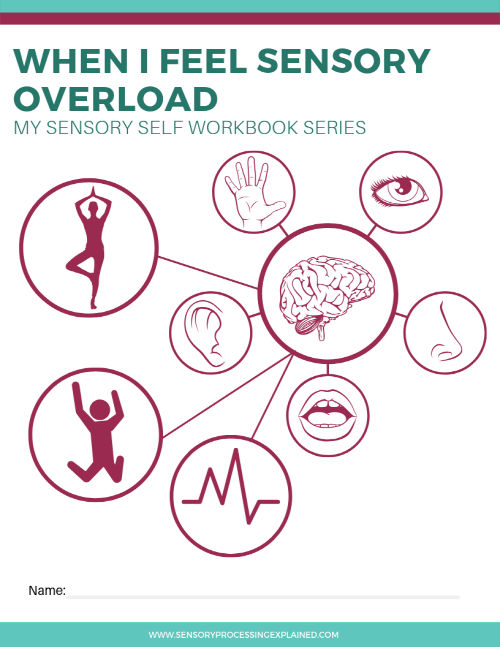 When I Feel Sensory OverloadBuy Now
Why Does Izzy Cover Her Ears? Dealing with Sensory Overload

Ellie Bean the Drama Queen

Arnie and His School Tools: Simple Sensory Solutions That Build Success

Squirmy Wormy: How I Learned to Help Myself

Sensitive Sam: Sam's Sensory Adventure Has a Happy Ending!

Max and Me: A Story About Sensory Processing

Pickysaurus Mac

Don't Rush Me: For Siblings of Children with Sensory Processing Disorder

There are a few on this list that I would like to go into a bit more detail about.
My Sensory Self Workbook for Kids was born out of a wish. With five of my kids having Sensory Processing Disorder, I had always wished that a resource existed that would have helped me teach them about sensory processing. I wanted something that not only taught them the terminology in a fun way, but also helped them discover their own sensory preferences.
I teamed up with my friend Heather who is an OTA so that we could pair her professional experience with my real world experience. We created the workbook especially for kids. Even kids who don't have SPD have sensory preferences (as we all do). This workbook is a great teaching tool. Help take the mystery out of sensory processing.
When I Feel Sensory Overload helps children think through their reactions to meltdowns and what may have led up to that in the first place. This enables them to identify their triggers and react differently in the future.
Squirmy Wormy has some sensory strategies interspersed throughout the story, which I quite like.
Arnie and His School Tools is a good book for teachers to read to the classroom. The story explains why some kids may need to use sensory tools in the school. It can also help kids with SPD feel less self-conscious about the tools they use.
Don't Rush Me! is specifically written for siblings of kids with SPD. This is a much needed area to be addressed. Siblings are affected and may not have the vocabulary to ask questions or express their feelings about it. This book can be a starting point for that.
Pickysaurus Mac is a cute story for kids who are picky eaters due to sensory issues.
Sensory Processing Books for Older Kids:
The Superkids Activity Guide: Awesome Games and Crafts to Master Your Moods, Boost Focus, Hack Mealtimes and Help Grownups Understand Why You Do the Things You Do

The Goodenoughs Get in Sync: 5 Family Members Overcome their Special Sensory Issues

Learn to Have Fun with Your Senses: The Sensory Avoider's Survival Guide

When My Worries Get Too Big!: A Relaxation Book for Children Who Live with Anxiety

This is Gabriel: Making Sense of School: A Book about Sensory Processing Disorder

I'm Not Weird, I Have Sensory Processing Disorder: Alexandra's Journey

While the cute picture books are great for preschoolers and early elementary, older kids with sensory issues need this information too. Thankfully, some books have come out geared towards an older audience.
Many kids with SPD also struggle with anxiety and When My Worries Get Too Big has long been a favourite of mine to address that. The anxiety is often related to their sensory issues. This book is a great way to begin discussions and help them work through some of what they are dealing with.
The Superkids Activity Guide to Conquering Everyday is a really distinct resource in that it empowers kids while also giving parents a better understanding. And it helps kids celebrate their uniqueness instead of hiding from it.
Our Favourite Sensory Processing Books for Parents:
If you're a parent who is just starting out on this sensory journey, thankfully, you do not need to go it alone. There are some wonderful resources designed to help you along the way. I highly recommend you start with these:
Sensory Processing Explained: A Handbook for Parents and EducatorsBuy Now
The Sensory Lifestyle Handbook by Colleen BeckBuy Now
The Out-of-Sync Child: Recognizing and Coping with Sensory Processing Disorder

You can read more about these books for parents here.
Looking for other ways to help your child with their sensory differences? Join me for a free 5 part email series Sensory Solutions and Activities and get your Sensory System Behaviours Easy Reference Cards.