Have you heard of interoception? The 8th sensory system isn't as well known as its 7 older brothers and sisters, but it's equally important.
So what is interoception? While the other sensory systems are focused on the perception of external sensations, interoception is the perception of internal sensations.
It is critically important for our kids because it helps them understand and feel what is going on inside their bodies.
Interoception helps kids determine:
heart beating fast or slow
hungry or full
thirsty or quenched
hot or cold
nauseated
itchy
ticklish
breathing regulation
emotion
symptoms of pain or illness
Kids who have interoception challenges may also struggle with self-regulation. Seemingly simple things such as getting a drink of water when thirsty or making it to the bathroom on time are not simple when feeling thirsty or knowing that your bladder is full are sensations that are poorly developed.
It can be more difficult for these kids to recognize their emotions. Many emotions present internal signals such as racing heart for fear or excitement. When these aren't recognized, learning to recognize the associated emotion is affected as well.
When I first began to learn about the sensory systems and how they were impacting my kids who had sensory processing challenges, interoception wasn't yet known.
At the time, it was hard enough for me to wrap my head around words like "vestibular" and "proprioception"!
Learning about interoception years later was the key to helping me better understand one of my sons.
The 8th Sensory System
Our youngest son struggled with challenges that I didn't recognize as being related to sensory because he wasn't showing the typical sensory seeking or sensory avoiding behaviours. But he seemed to have a hard time recognizing hunger and thirst and he was hot when others were cold and cold when others were hot.
His body temperature issues often led to difficult behaviours as he felt irritable when he felt hot, which was most of the time. He often went outside in our Canadian winters without a coat or gloves on.
His pain tolerance seemed to be off the charts. In fact, he has such a high threshold for pain that he was still playing basketball the day before his appendix almost burst.
These little quirks were quite the mystery.
I have since learned more about interoception and have a better understanding of how it affects him. I have also learned that with interoception, there can also be signs of sensory seeking or sensory avoiding, but they may be more difficult to discern than with the other sensory systems.
One way of thinking about interoception that helped me to better grasp of it is thinking of it as our body's warning system. There are certain body sensations that lead us to discomfort, danger, or alert us to our body's needs.
Listening to those signals allows us to rectify the issue (such as drinking when thirsty) leading to self-regulation. When a child (or adult) can't recognize or identify those signals or is getting the wrong signals, it can cause frustration, stress, and lead to physical repercussions.

Signs your child may struggle with interoception:
eating or drinking too little or too much
rapid or shallow breathing
bedwetting
toileting accidents during the day
frequent bathroom visits
delayed potty training
incontinence or constipation
trouble explaining illness or their symptoms such as nausea, headache, fever, chills, stomach aches, muscle aches
unusual response to pain (pain tolerance that seems too high or too low)
not noticing injuries
reporting pain or discomfort often
difficulty processing stress or emotions
issues with self-regulation
difficulty regulating emotions
having "big emotions"
There is still much to be learned about interoception and research is ongoing. Early indications show that mindfulness, heavy work, and a sensory diet may be effective ways to treat issues with this sensory system.
How to Improve Interoception Awareness for Kids:
Teach kids about their sensory systems, their sensory preferences, and their sensory needs. A great way to do this is with the Teaching Kids About Sensory Starter Kit, specifically the My Sensory Self Workbook and the When I Feel Sensory Overload Workbook. Both of those really help students to get in touch with their own sensory needs.
Model talking about how you are feeling in terms of your internal body signals. "My bladder (point to where this is in your lower stomach area) feels full which means I need to pee. I had better go to the bathroom." or "That grumble and the empty feeling in my stomach means that I'm hungry and should eat."
Ask probing questions to help your child focus in on the sensations in their own body.
Help improve their emotional vocabulary and awareness of their own emotions. You can do this with resources such as the Teaching Emotions Toolkit or with emotions activities.
Incorporate heavy work into their day. Every day.
Work on mindfulness.
Yoga is a way for kids to get in touch with the sensations in their bodies. Kids Yoga Stories is a great place to find resources for this or you can check out Cosmic Kids Yoga on YouTube.
Interoception Resources:
Sensory Processed Explained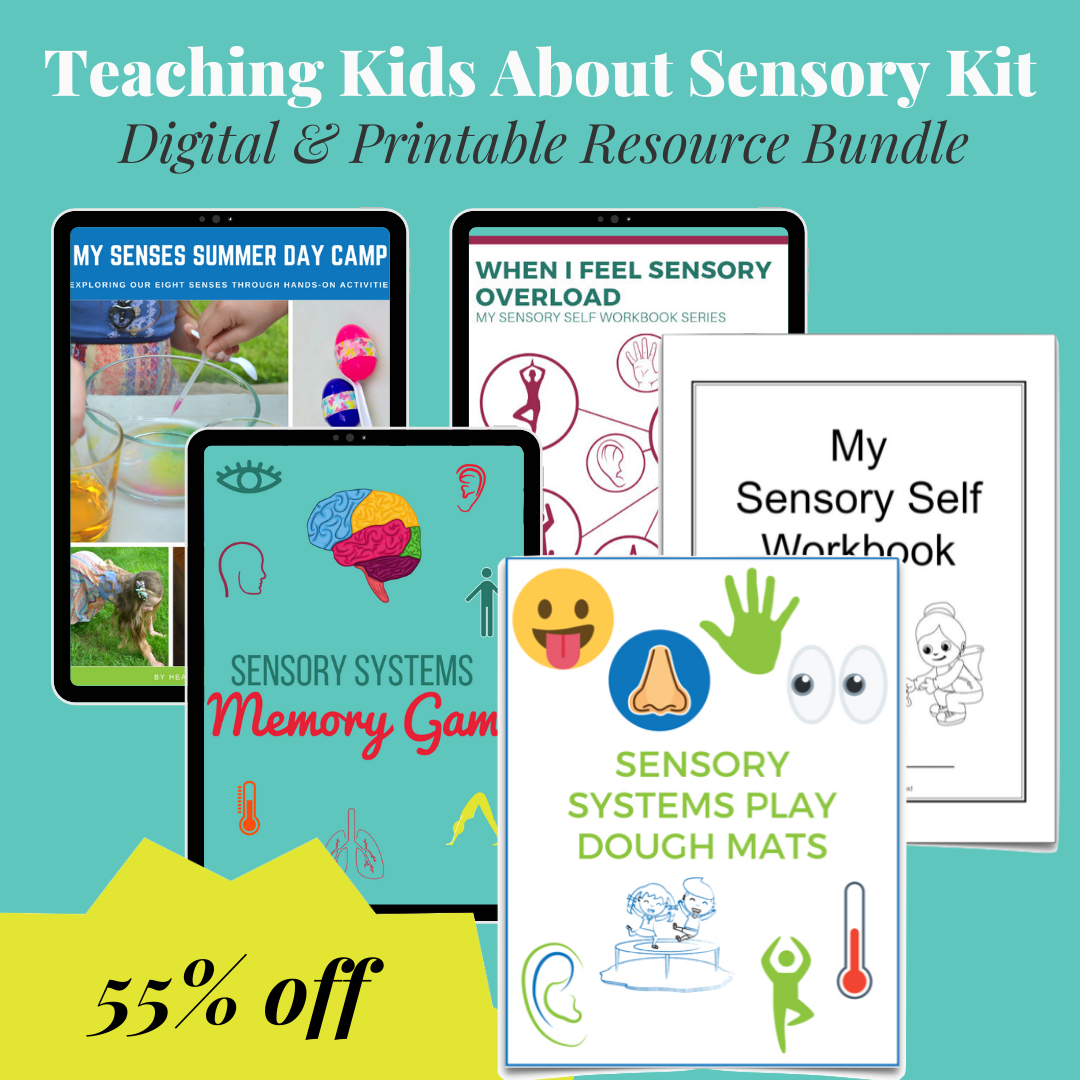 Teaching Kids About Sensory Kit

Breathing Exercises Cards for Kids

Yoga Cards for Kids

The Interoception Curriculum: A Step-by-Step Guide to Developing Mindful Self-Regulation

Interoception: How I Feel: Sensing My World from the Inside Out

My Body Sends a Signal: Helping Kids Recognize Emotions and Express Feelings

I Feel… Something: Listening to Your Body for Kids (Social Skills for Kids, Interoception for Kids, Social Emotional Learning)

10 Interoception Activities and Strategies for Kids
I know that if you're just hearing about this sensory system for the first time, it can feel overwhelming. But it may also feel hopeful once you realize that there may be an explanation for why your child is behaving a certain way or having certain reactions.
When we can better understand our kids, we can better help them.
Some other articles that can help you better understand sensory processing: